Being a thoroughly well-travelled human (self-acclaimed) is something that I strongly identify as my sense of self. Ethnocentrism is something I believe I am not, having travelled to over nine countries in the space of a single year.
However, education in a foreign country is something I have not yet experienced, and I know for a fact that it doesn't come close to comparing with a relaxed beach-hopping holiday. Immersing oneself in a foreign culture for a number of years and being defined as "culturally fit" in a specific country is a completely separate experience to travelling for a month's worth of "Insta-worthy" pictures.
International students (particularly those who choose to study in Australia) are continuously confronted by uncomfortable social and academic situations. These situations include homesickness, financial difficulties, language difficulties, loneliness and anxiousness about speaking in front of a classroom of a majority of those who identify as "Anglo-Australian." (Kell, Vogl, 2006)
In this sense, international education is not the rich intercultural experience it could be. However, there is a record number of students travelling to Australia, pushing the industry into the top five earning exports. (Marginson, 2012)
Figures from the Federal Education Department have been released showing that 554, 179 full-fee paying international students enrolled in 2016.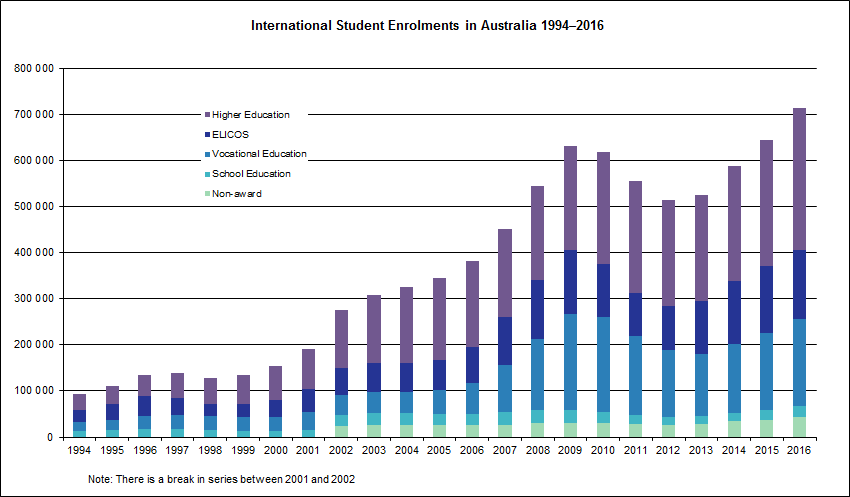 If these numbers are anything to go by, a new introductory program could be implemented to tackle the social and academic issues these international students are facing. Creating a healthy learning and social environment are both crucial elements for the achievement of success whilst living away from home.
In addition to this, socialisation between domestic and international students is lacking, with domestic students viewing international students, particularly those of Asian descent, as a homogenous group. (Kel, Vogl, 2006) Breaking this misconception would help progress towards a "hybridist" based society, and essentially a better understanding between the two groups. Ideally, this will prevent further uprisings, such as the ones displayed during the Cronulla riots of 2005.
These riots were inspired by hatred and racism towards the Lebanese community by white "Anglo-Australian's," and vice-versa, as explained through various recounts of the story.
If these blame-games are anything to go by, there may still be tensions between both groups, which has the potential to be carried on into the education system as a result. Therefore, it is necessary for both groups to play an active role in the socialisation between international and domestic students.
Stepping out of one's comfort zone can be a daunting task, but it is the least we can do to help further intercultural experiences and prevent ethnocentrism in our education system. Who knows, you could even make a life-long friend out of an international student.
Cheers,
V 🍻
Instagram | Twitter | YouTube | Facebook
REFERENCES:
Kell, Peter, Vogl, Gillian 2006, 'International students: negotiating life and study in Australia through Australian Englishes'. Centre for Research on Social Inclusion, Macquarie University, Sydney, pp 1-11.
Marginson, Simon 2012, 'International education as self-formation: Morphing a profit-making business into an intercultural experience', Centre for the Study of Higher Education, University of Melbourne, pp 1-11.